Hotel & Resorts

Representation

Your

Brand Ambassador

Creative

Hub & Interface

Market

Experts

Strategic

Partner
What we do best
Representation
Brand Ambassador
Strategic Partner
for the EXTRA - Ordinary.

CLIX Consulting offers outstanding sales, marketing and PR solutions for remarkable hotels, resorts, hideaways and tourism destinations on the German-speaking market.
We are your representative, hub and multiplier for Germany, Austria and Switzerland. With more than 25 years of experience in sales, marketing and PR in the tourism industry, we have the appropriate professional expertise and necessary network in the travel industry to drive results.
CLIX Consulting inspires its national and international clients with the highest level of professionalism, loyalty and authenticity.
High-end products
High-end solutions & service
We offer our clients tailor-made solutions for sales and creative marketing, based on their requirements and desired goals. Together we develop individual project plans, define measurable goals and determine the corresponding time and budget plan.
Our scope of work and services covers a variety of solutions from short-term project work to full representation. We support our clients on their journey from the first market launch, crisis recovery and market comebacks to steady growth. CLIX Consulting specializes in perfect placement, most meaningful communication as well as increasing sales figures.
Our services cover the following main areas:
Sales Solutions
Goal-oriented sales measures
We support iconic hotels, resorts, destinations and tourism companies with targeted sales activities in the source markets Germany, Austria and Switzerland.
CLIX Consulting is your representative office, extended sales team and local brand ambassador.
We create personal connections to key decision-makers in the local markets and use our network to constantly improve your sales figures from the German-speaking markets.
CLIX Consulting provides sales tasks such as:
Marketing Solutions
Thoughtful tourism marketing
We perfectly set the stage for your property or destination. Our task is to create and deliver execptional high end content, that perfectly match the needs of the German speaking markets. Starting with the right photography, key visuals and graphics to sensefull advertising texts & wording.
We set impulses and define new trends.
CLIX extends your reach and targets your relevant target groups and cooperations for you.
We develop your PR concept adapted to your requirements and use target group relevant channels with sophisticated content.
CLIX maintains regular contacts with local media, journalists, bloggers and influencers within the German speaking markets.
What drives us
Working in a creative and relationship driven environment with highest demands on quality, service and a performance that leads us to satisfied and repeating customers.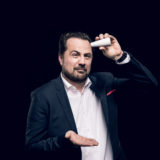 "Paths are made by walking"
Franz Kafka
Jürgen B. Salzer
CEO & FOUNDER of CLIX
Contact CLIX Consulting
Simple and straightforward with the contact form direct to CLIX Consulting.